I love those fall and Halloween stacked pumpkins but they are expensive. I was looking through several magazines and they can be as high as $200+. Yikes! No way I am paying that so I thought of a way to make one for myself.
This cost me less than $2. Want to make one for yourself? I will show you how to do it.
Stacked pumpkin tutorial:
1. Here are the supplies I used:
I found this planter that someone threw out and I purchased the plastic pumpkins at the end of the season last year at Walgreen's for 15 cents a piece.
2. I painted the planter black and let it dry.
3. Now to paint the pumpkins. The pumpkins have faces but if I turned them around, I could not see them and they looked good from the front. I painted one of them white and then painted black stripes down the sides. I just free-handed the stripes.
4. For the second pumpkin, I spray painted it white and then added some gold circles. I glued them on.
5. For the last pumpkin, I left it orange and painted black diamonds around.
6. Now it is time to put it together. I added a couple of boards to the top of the planter so the pumpkins could rest on it. I wedged a long piece in and then added two pieces on each side. Since the plastic gives and there is a lip, it was easy to wedge them in.
7.Next I added some black gauze that I bought at the Dollar Tree. This would hide my wood. You could use some black fabric instead.
8. Now it is time to stack the pumpkins. I placed one on top of another. Because of the rims on the pumpkins, they stick together. You could glue them together but I wanted to be able to take them apart so I can store them easier.
9. For the top one, I added some flower foam into the top and wedged a stick between the two of them for the topper.
10. I cut out the words "Boo" from Halloween burlap that I used to make a Hello Kitty
Halloween bag
.
I cut them into leaf shapes.
11. I glued them to the top pumpkin.
12. Finally, I added a bow to the top pumpkin and my stacked pumpkins were finished.
It might not be as elaborate as one costing $200, but I love it all the same.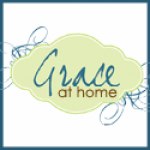 >